The next NRV Project Linus Blanket Day will be October 7, 2017 ! It will be held at Grove United Methodist Church, 1020 Tyler Avenue, Radford, VA from 9:00 AM to 3:00 PM
Quick Links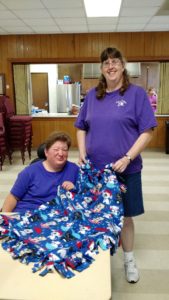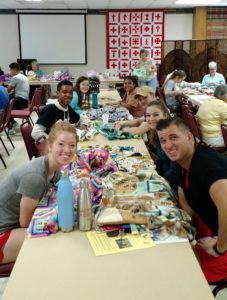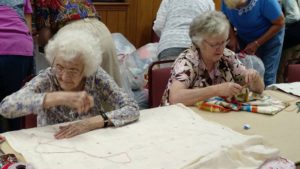 6/10/2017
We'd like to say a special thank you to Randal Van Dyke. He shared with NRV Project Linus his mother's terrific stash of yarn and craft books. Mrs. Clark had beautiful yarn which we shared with our volunteers. We're sure to see many beautiful blankets in the months to come that have been made with her yarn! Thank you, Randal, for delivering your generous donation to our Blanket Day event! We truly appreciate it
6/11/2017
Hello Friends,
We had a great blanket day yesterday!  58 people attended, including
several newbies.  It's so nice to see new faces and introduce them to
Project Linus!  We also had a group of 30 students from Radford University
who donated material and made fleece blankets.  We ended the day with 350
total new blankets!
We greatly appreciate those who worked in the kitchen and help clean up as
well as those who shared food for our lunch.  That is such a great help
and we couldn't do it without the generosity of our volunteers!
Mark Johnston, Adam, and Alex as well as others were a terrific help in
cleaning up and loading/unloading blankets and supplies.  Thanks so much
to everyone for supporting NRV Project Linus.
Our next Blanket Day is set for October 7th.  Hope to see you there!!
Fondly,
Penny Sweet  (PHS1010@aol.com)
http://www.nrvprojectlinus.org
Facebook:  NRV Project Linus
2017 PROJECT LINUS DID YOU KNOW?
Karen Loucks started Project Linus on December 24,1995. The New River Valley-Radford Chapter begin in June, 2000.
Project Linus nationally has been alive for 6.942 days as of January 1.2017
Project Linus nationally has had non-profit status since May 12, 1997
The New River Valley-Radford Chapter of Project Linus donated 2,441 blankets in 2016. Since we started, we have delivered 33,467 blankets!
Project Linus nationally has officially collected over 6,063,751 blankets as of January 1, 2017. If 60% of them are fabric, that translated into over 10,914,751 yards of fabric. If 40% are afghans, that is over 19,404,003 skeins of yarn.
If each blanket is an average of 60: long, and we laid them end to end, they would stretch 30,318,755 feet or 5,742 miles. That is as tall as 1,44 Mt. Everests, or 17,071 One World Trade Centers or 24,255 Empire State Buildings or as long as 101,062 football fields.
Project Linus was named after the adorable security blanket-toting character from the Peanuts© comic strip. Creator Charles Schulz was aware of our efforts and was delighted to have Linus inspire blanket makers to help comfort children in need.
Project Linus began in December 1995 after Karen Loucks was inspired to make blankets for her local children's cancer center. Since then, Project Linus has expanded to include children who are seriously ill or traumatized in many ways.
MISSION STATEMENT
Project Linus is a volunteer non-profit organization with a two-fold mission:
FIRST, it is our mission to provide love, a sense of security, warmth and comfort to children who are seriously ill, traumatized, or otherwise in need through the gifts of new, handmade blankets and afghans, lovingly created by volunteer "blanketeers."
SECOND, it is our mission to provide rewarding and fun service opportunity for interested individuals and groups in local communities, for the benefit of children.
Anyone, any age, can help these children. It is within your power to make a difference.
Nearly 400 chapters of Project Linus exist nationally, with more than 4,000,000 blankets donated to children.
The next NRV Project Linus Blanket Day is October 7, 2017 at Grove United Methodist Church,
1020 Tyler Avenue, Radford, VA from 9:00 a.m. to 3:00 p.m.